Voile Light Rail Bindings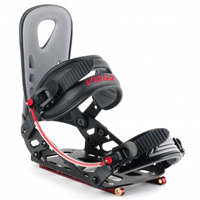 Lightweight, rigid and low profile; Voile's Light Rail Splitboard bindings are nearly the lightest on the market and more than half of the cost of its competitors. Weighing in at only four pounds (1.9kg), these bindings offer rigidity, stability and increased performance touring up and sliding down. At only $275 it is easy to see why Voile's splitboard bindings beat any conversion kit hands down. The channel puck system allows the rails of the binding to slide easily across the board and lock in with a strong pin keeping your feet lower to your board. The touring bracket, made wider this season gives added stability when side-hilling on the up. To reduce weight, Voile laser cut the baseplate, which also keeps snow from building up underfoot.
Voile made improvements to the high back and heel cup by allowing a negative angle. Your calf muscles will thank you when touring for reduced rub and longer strides towards your destination. Simple adjustments allow this negative angle to be reset when preparing for the descent. The high back has a stiff flex for responsive turns and padding for ample comfort.
Additional improvements were made with the straps and ratchet system. Custom fit your snowboard boot under the toe strap to keep pressure aiming both down and back and find your optimal comfort level with a single screw adjustment on your ankle strap, eliminating pressure points. Attached to both ratchets is a string or "ripcord" that will release both ratchets when pulled. This is to help you bail from your snowboard while being sucked down into an avalanche. Just be careful when grabbing close to your bindings during big airs, this cord could catch and release when you least want it to.
Available in both men's and women's models, and in a variety of colors the Voile Light Rail Bindings go perfectly with the Voile Revelator BC Splitboard reviewed over here.
Voile's Light Rail splitboard binding (red featured here) is innovative, inexpensive and insanely rad!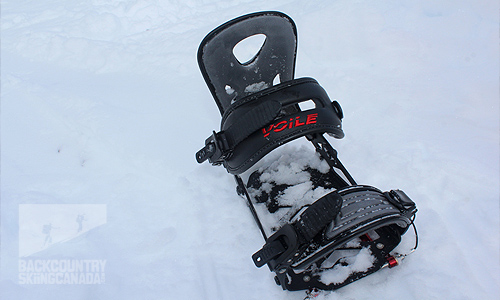 Many adjustments allow this binding a custom fit for any snowboarder, including a negative adjusting heel cup that makes touring up a breeze.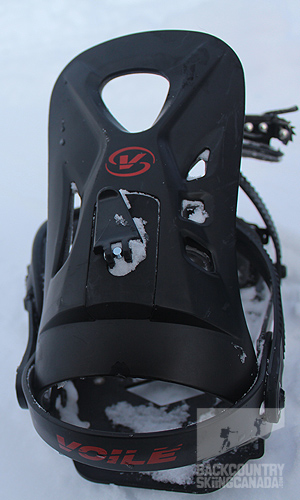 Features:
- Avalanche ripcord for quick release.
- Fully adjustable heel cup with negative angles for tour mode.
- Aluminum rails anodized for added strength.
- Low profile, single screw adjustment on ankle strap reduces pressure points.
- Wide touring bracket and longer pin increases stability and durability.
- Padded high back.
- Aluminum base plate and rails.
- Brass bushings that reduce wear on pin.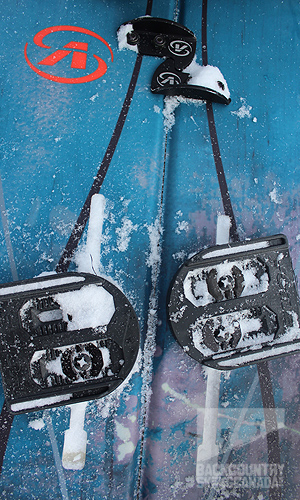 The rails (featured in red) slide over the channel puck system and lock in with a solid pin allowing ease of change over (from walk mode to downhill) and stability on the slopes and skin track. The laser cut baseplate reduces snow/ice build-up and overall weight.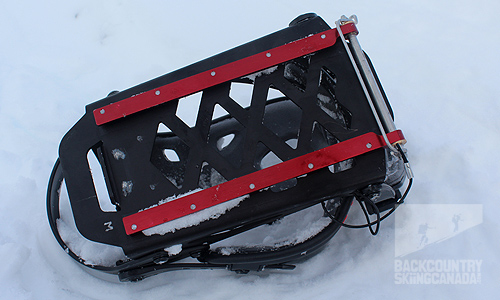 Verdict:
There is no doubt that Voile's Light Rail Splitboard bindings are the way to go for performance, durability, and comfort... inside a reasonable budget as well. Compared to bindings from other splitboard binding companies, Voile Light Rail bindings are well under half the cost of high-end bindings with similar weight, comfort and performance specifications while still exceeding the pros and cons of any low-end model. The avalanche ripcord is innovative. Although some concerns with the cord being ripped unintentionally is far outweighed by the benefits of avoiding an avalanche burial. Also this cord is easily removed if unwanted.
The ability to choose from a variety of colors, sizes and manual adjustments ensures any snowboarder, big, small, wide or tall, is able to use and appreciate the comfort and stability offered here. I would recommend this product to anyone, especially those on binding conversion kits. This product will not disappoint.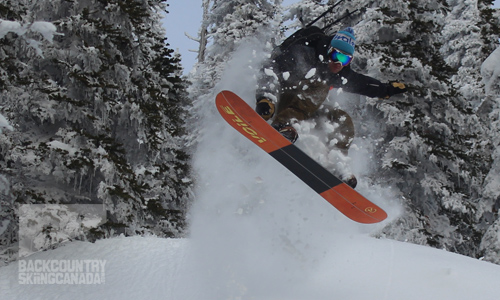 SPECS:
Price: $275US
Size: Men's S/M/L and Women's S/M
Colors: Men's Red, Green, Orange & Purple and Women's Green & Orange
Weight: 1.9kg / 4lb
Flex: Stiff
PROS:
- Lightweight, rigid & low profile.
- Slides easily onto channel puck system and locks into place with pin.
- Base plate designed to allow for stance adjustments without removing binding or using the alignment guide.
- Comfortable straps.
- Adjustable high back, heel cup, toe & ankle straps.
- Inexpensive.
CONS:
- Avalanche ripcord may be easily lost or catch on hands or low-lying hazards.
- Channel puck system sold separately.
Rating: 9/10
Innovation 1/2
Function 2/2
Aesthetics 2/2
Features 2/2
Quality/Price 2/2

Back to the rest of the reviews.
---