Dynafit Vulcan AT boots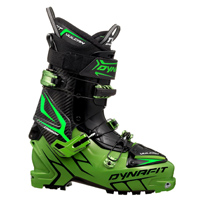 Prior to skiing the Dynafit Vulcan AT boots, I sampled a number of other Dynafit boots starting with the Dynafit Zzeus TF-X (which was one of the first AT boots reviewed here on backcountryskiingcanada.com). The Zzeus was groundbreaking in that it offered beef with a tech fitting. I loved them, but they were heavy at around 9 lbs a pair. I had the opportunity to try out a pair of Dynafit TLT-5s and I could barely get them on my feet. Then, last year, Dynafit introduced the Vulcan alpine touring boot, along with the Dynafit One (check out our review of that here) and the Dynafit Mercury. O!M!G!. The thinking behind this line of boots was to incorporate some of the features of the TLT and bring on the beef from boots like the Titan and the earlier Zzeus. Thanks to input from Eric Hjorleifson, these boots represented the best of both worlds. They were also built on a bigger/wider last so they fit people like me whose feet have "character."
We are big fans of Dynafit and have reviewed items like the Dynafit Stoke Skis, the Dynafit Eruption down jacket (which, incidentally, won our gear of the year prize) and the Dynafit Breath Jacket. Most of their products are a little "quirky"—in a most excellent way—and the company is 100% focussed on alpine touring (and skimo) gear.
Though the brand has offered other boot models which are somewhat stiff, the Dynafit Vulcan signals the company's dive into the freeride market. It's no secret that the fastest growing segment of backcountry skiing is "freeriding." The term is open to a fairly wide range of interpretation but it's mostly used to describe a more aggressive style, usually on bigger boards, skiing steeps. The beauty of the Vulcans is that they work well on the up also. Some manufacturers which are coming from an alpine skiing foundation (see reviews on Salomons or Atomics, for example), have figured out how to make boots which performs well going down--but lack severely on the up. It's perhaps a testament to Dynafit's maturity and depth as an AT boot maker that they have figured out how to kill two birds with one stone. I've had the Dynafit Vulcans for the later half of the season and I have worn them exclusively. Long touring days (and weeks), and days at the area including groomers and pow. They make me ski better, stronger, faster—like the six million dollar man, only Canadian.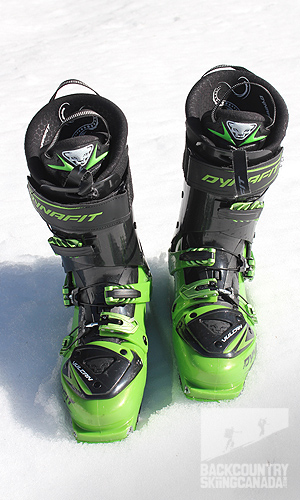 Here is the essence of the Ultra Lock cuff latch system. The buckle acts as a buckle (duh) as well as a means to alternate between walk or downhill modes. It makes for very fast and simple transitions and also cuts down on weight. This is one of the carry-overs from the TLTs.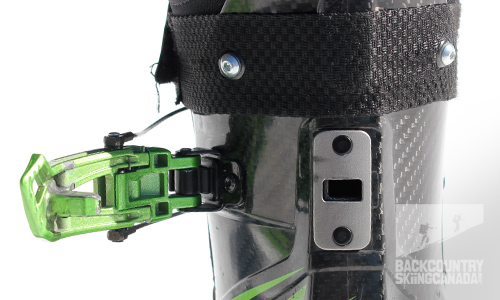 The paint has chipped off the male part of the system but who cares. It looks more hesh. You can also see another sneaky and smart feature here. In tour mode, there is a mechanism which holds the buckle forward and out of the way. Very tidy.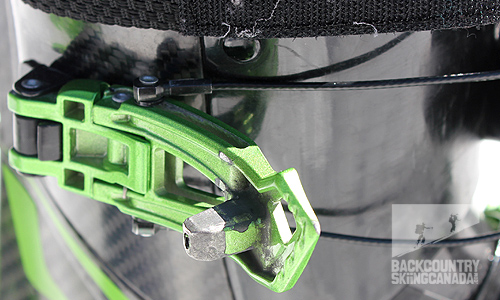 Here's another bit of cherman ingenuity that contributes to the remarkably low weight. Careful though, if you don't ensure that the cable is in the groove correctly, the black fastener/lever won't close.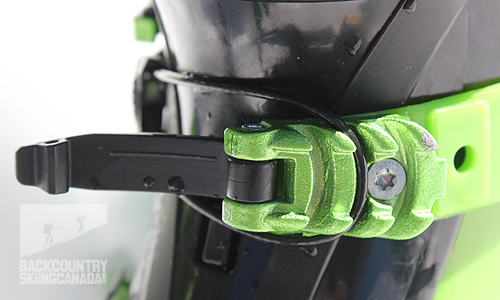 Mmmm carbon fibre cuff. Remarkable stiffness and control. Even if you don't huck your meat.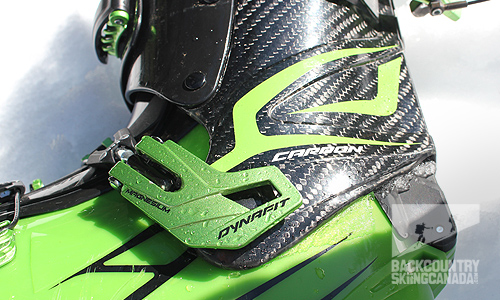 Here's the patented Dynafit quickstep toe-pin-hole design. It makes the boots easier to get into—but not so easy that you don't miss a few times and chew up the plastic.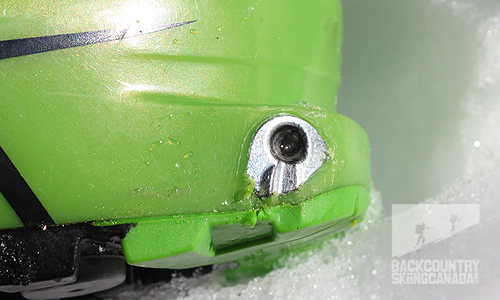 Full disclosure: I swapped out these stock liners for a pair of Intuitions. I found the stock liners to be a little cold and limited in terms of thermoformability. I also went for a Sidas custom molded insole which made for next-level control and comfort. I am never going back.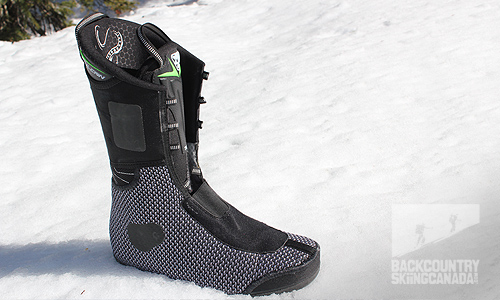 The Flex Zone—now de riguer for most liners—makes a lot of sense. It means you aren't fighting against your liners with every step on the uptrack.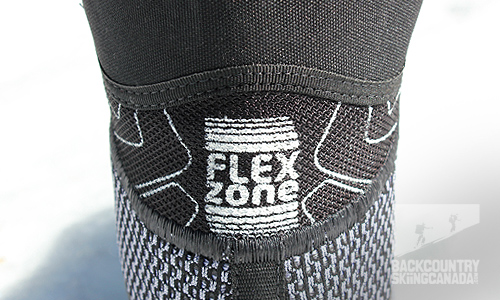 No complaints with the soles. I haven't done much in the way of scrambling in them but they have held up fine in the conditions to which they've been exposed.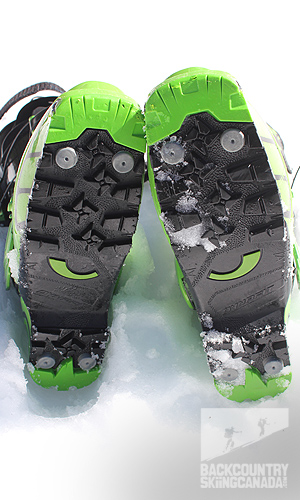 Here 's the boot with the tongue out. I removed the tongues for a couple long climbs but I found them a little fussy to get back into the slots. If the snow is deep, it can get packed into the little triangle above the toe. I usually leave the tongues in. The boot still has plenty of forward flex for my liking.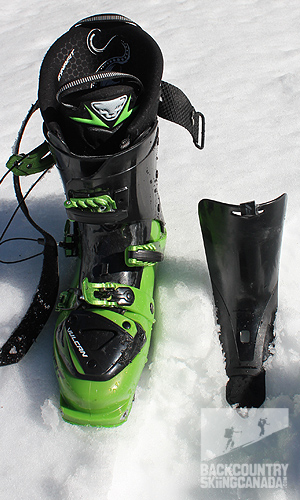 Verdict:
The Dynafit Vulcan is a remarkable boot—one of my all-time faves for sure. It's amazing how light-weight they are. Ski in any other boot and you'll immediately feel like you have cement shoes on. They feel comparable in terms of support and flex to a Garmont Delerium, but they weigh in at about 700 grams less, per boot! Initially, they felt so light that I was concerned that they wouldn't be stiff enough. Rest assured; they are plenty stiff. Some people might be intimidated with all the speak of 15 DIN settings and super stiff boots for hard-charging, pillow line skiing. I ski conservatively and these boots made me ski better and have more fun. They would do well as an exclusively area boot, a long tour boot, or a sidecountry boot. I just use them for everything. Why not?
SPECS:
Price: $945 US
Flex: 130
Size: 22.5-31.5 mondo
Weight: 1590 gr. (27.5)
Material: Grilamid shell, grilamid and carbon fibre cuff
Cuff rotation: 60°
Forward lean: 15-18°
PROS:
No question the lighest, stiffest boot I have even skied in. With the liner swap-out, they are also among the most comfortable. Great for the walk, great for the ski, and remarkably fast for transitions.
CONS:
Like all Dynafit gear, the Vulcans take a while to figure out (how to work with the buckles, etc). The grilamid seems to ding a little easier than pebax but not so much that it's a problem. The stock liners don't really do justice to the rest of the boot. Oh..and they cost 1,000 bux.
Rating: 9/10
Fit/Comfort 2/2
Cuff Rotation 1.5/2
Function 2/2
Weight 2/2
Quality / Price 1.5/2

Join the discussion in the forums here, and let us know what you think. People like/dislike gear for different reasons so chime in and we'll get a well-rounded evaluation.
Back to the rest of the reviews.
---