DPS Wailer 112RP Skis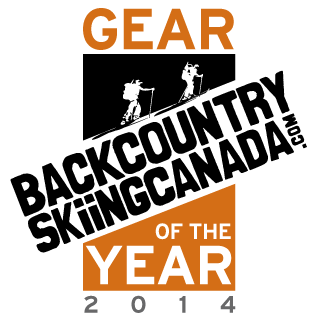 The DPS Wailer 112RP (with Pure3 carbon construction) is a clear Gear of the Year winner due to its high performance as a touring ski. These boards are light and make skiing more fun due to their turn-ability. What could be more important and award-worthy than fun?
The Backcountry Skiing Canada Team.
---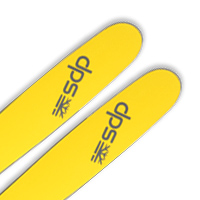 DPS is a small Salt Lake City-based manufacturer of skis, skis poles and apparel. Founded by Stefan Drake (the D in DPS) DPS has built a cult following since its inception in 2005. Through a combination of innovative design, smart marketing and chutzpa, DPS skis are now appearing on slopes more and more—in the backcountry and out.
The DPS Wailer 112 is positioned as an all around ski—not a carver, like the Cassiar, not a big mountain powder ski, like the Spoon. Oh..the Spoon…we should talk about that a bit before moving on. And I quote, the Spoon features: "a convex 3-D shovel combined with a single-radius underfoot rocker and radical edge bevel for the ultimate in powder surfing sensation." It's a crazy looking ski that apparently performs really well on deep pow days. So much so that DPS has migrated its Spoon technology to their Lotus line of boards as well. It's good to know that the company is pushing the definition of "ski." And why not, eh?
Though the Spoon looks and sounds super cool, it may be more of a specialty ski—better suited to skiing spines in AK.
We've been skiing on the Wailer 112RP. Maybe less flashy than the Spoon. Definitely more of an all arounder. We'll let the video below get into the overall feel and experience of the ski. We had the ski up for a week of pow at Powder Creek Lodge. It excelled.
We tested (and are still testing) the Pure3 version of the ski. At 1836 grams (4-ish pounds), these boards are remarkably light for their girth. Paired with Dynafit Radical bindings, they make for an exceptionally fun and lightweight touring set up.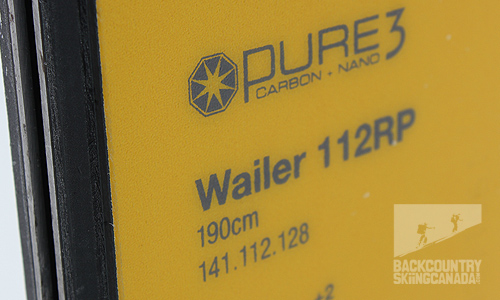 Yes, we have rocker. Key to the DPS Wailer 112RPs slarvey nature is its tip rocker length of 450 mm. Great for breaking trail. And crud. And pow. And bad.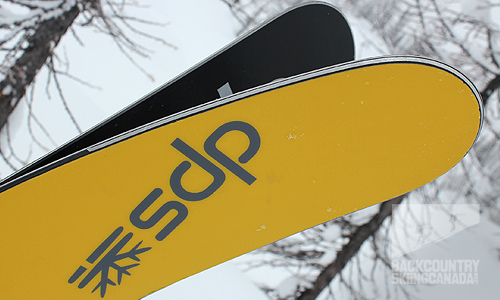 Lest the tips get lonely, the tails enjoy a healthy rocker too. 400 mm to be exact.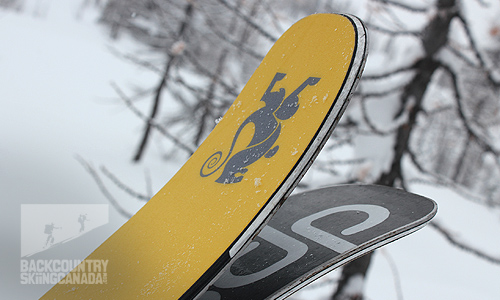 The camber underfoot is categorized as "slight." Makes for a good pivoting ski.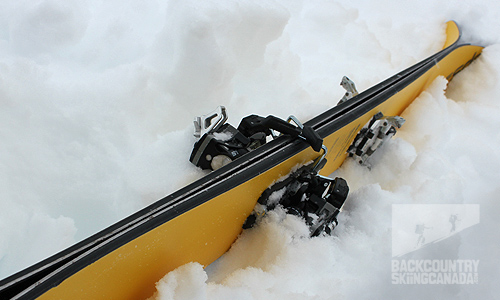 One more tail shot for good measure. Look for the full lion to identify the Pure3 torsionally rigid carbon construction.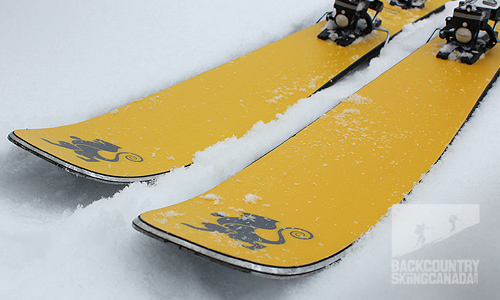 Lovely topsheets. Very simple and elegant.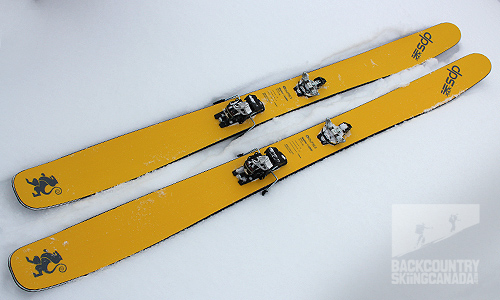 Verdict:
Two thumbs, and two big toes, up. The DPS Wailer 112RPs are remarkable skis. There has been a lot of praise for the DPS brand—so much so that I kinda wanted to buck the trend and not like them. Fact is, I couldn't. I get to ski many pairs of skis in a season and these babies are my faves. At first, their lightweight made me think they wouldn't be SKI enough to ski crud and mank. I got over it and now use them in most all conditions. Taking a close look at the construction (like, around the tip for example) it's apparent that these ski are well made and crafted with care. Because of their lightweight, they are touring machines. A really great backcountry ski.
Here's an animated GIF of the tester testing in the pow at Powder Creek Lodge. The Wailer 112RP passed with flying colours.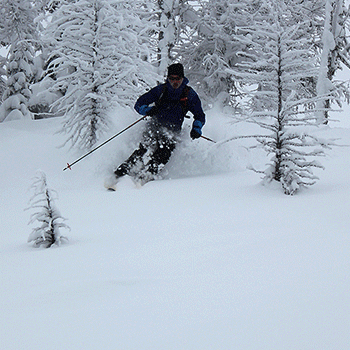 SPECS:
Price : $1249 US
Dimensions: 141/112/128
Sizes: 168cm / 178cm / 184cm / 190cm
Turning Radius: 15-18m
Weight: 1836 grams per ski
Tip Rocker Length: 450 mm
Tail Rocker Length: 400 mm
Running Length: 1490 mm
PROS:
These skis are remarkably fun, easy skiing skis. They'll make you feel like a kid again—if you aren't one to begin with. Cosmetic are nice to look at. Light ski with all the curves. Freeride fun in the backcountry. They make you want to charge. The fact that they are made in US of A (god damn it) is also a plus. It's a small but growing outfit of passionate people.
CONS:
At 1000$+, they are a little spendy. If this is an issue, consider the Hybrid version at $799.
Rating: 8.5/10
Powder Performance 2/2
Groomer Performance 1.5/2
Stability 1.5/2
Weight 2/2
Value 1.5/2

Back to the rest of the reviews.
---