SUMMER STOKE
The Summer Stoke Comp is now closed — thanks to all those who entered. Stay tuned for future comps or a re-run of this one down the road.
---
It's baaa-aaack (again). Backcountry Skiing Canada is once again hosting its annual "Summer Stoke Comp". Starting May 1st we'll have monthly draws for incredible gear from our friends at Rab. We will be giving away over $800 of Rab products with one draw per month until the end of August. Check out the rules below and get entering!
---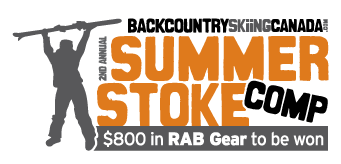 Three Simple Steps to WIN.
1. Check out BackcountrySkiingCanada.com each month from May 1st - Aug 31st 2013 for a post in our forums called "Summer Stoke Comp Clue". This will be posted the first day of each of these months and will contain a clue to winning that month's prize.
2. Sign up to our forums (if you aren't already a member) or login and submit your answer by responding to our post (again called "Summer Stoke Comp Clue") or enter it on our Facebook.
3. Check BackcountrySkiingCanada.com the last week of each of these months to see if you have won that month's rad Rab gear. Check out our review section for info on all the prizes or visit the Rab web site.
If you haven't signed up let's get started!
To take a look at the winners from last year, stroll on over here. Know that by posting an entry, you agree to the terms of the competition below. Visit the site often to see what other people are entering as their answer, or follow us on facebook and/or twitter.
COMP FORMAT.
Starting May 1st and running through August 31st, the first day of each month we will be posting a clue on our forums in a post called "Summer Stoke Comp Clue". Give it a read and then search our Rab reviews for the easy to find answer. Post your answer as a reply to the "Summer Stoke Comp Clue" on our forums or on our facebook page. On the last day of each month we will randomly pick a winner. You can only enter once so be sure to find the correct answer. We will announce the winner on the forums and on Facebook the last day of each month. If you have been chosen as the winner simply e-mail us at and let us know and we will send you a swanky prize.
WHAT IT TAKES TO BE A WINNER.
There are a seven Rab prizes to be won, one per month except for August where we will be awarding an ensemble of four prizes to outfit you head to toe in Rab wear. Check out the prizes mentioned above (available for either him or her) and see what you could win or click on the gear links above to read a complete review of each product up for grabs. If you are having trouble with the instructions on our site, let us know and we'll help you out as best we can. Or check out our help posts here.
RULES AND REGS.
Follow them and avoid getting dinged!
No purchase necessary. No automated entries. Enter once per person. This contest is open only to legal residents of the world who are 16 years of age or older, possess a valid ID proving age, and personal Internet email address. The winner may make no substitution or transfer of the prize(s). The prize(s) may not be redeemed for cash or anything else of value. Noncompliance with any of the Official Rules and Regulations will result in disqualification. Backcountry Skiing Canada and Rab are not responsible for any typographical error in the printing of the offer, administration of the contest or in the announcement of the prizes. Backcountry Skiing Canada and Rab reserve the right to modify these Official Rules and Regulations at any time and without notice. Any modification to these Official Rules and Regulations will take effect immediately upon posting on the website. Winner must claim their prize within 15 days of announcement, if they do not do so then another winner will be choosen.
- Entrants must be registered members of the www.backcountryskiingcanada.com forums or be a fan of Backcountry Skiing Canada on Facebook
- Prizes have no cash value and are not transferrable
- The Backcountry Skiing Canada team and Rab has the right to publish your name as a winner and use any photos for promotional purposes online and in print
- Entries must not violate any law, regulation, copyright, trademark, or privacy.
THE MOUSE PRINT.
By participating in the Contest and/or accepting a prize, a participant/winner agrees to defend, release and hold harmless the Sponsors and their parents, subsidiaries, affiliates, divisions, advertising and promotion agencies, and the foregoing companies' officers, directors, shareholders, employees, representatives, agents and all others associated with the development and execution of the Contest (collectively the "Releasees") from and against any actions, claims and/or liability for injury, loss or damage of any kind (including any violation or infringement of any proprietary or personal right of any individual or entity, and any personal injury, death and/or property damage) resulting in whole or in part, directly or indirectly, from participation in the Contest, and/or the use, acceptance or possession of a Contest prize, and/or participation in a Contest prize-related activity. By participating in the Contest and/or accepting a prize, a participant/winner consents to and gives the Sponsors the right in perpetuity to use a participant's/winner's name, address and Submitted Entry, to photograph/video a winner and a winner's property, and in perpetuity to use a winner's statements, quotes, picture, portrait, likeness, voice, video, biographical information, prize information, and winner-submitted photograph(s)/video/text (in whole or in part, as may be adapted, edited or modified, as solely determined by Sponsors) for advertising, trade, publicity and promotional purposes in any media now known or hereafter discovered, worldwide, including on the World Wide Web, without review, notification or approval, all without limitation or additional consideration, unless prohibited by law.
Conditions: Participants agree that by participating in the Contest they release the Releasees from any liability in connection with: a) entries that are ineligible as a result of being lost, late, illegible, damaged, incomplete, stolen, postage due or misdirected; b) any typographical or other human or technical errors in the offer or administration of the Contest, including but not limited to errors in advertising, these official rules, the selection and announcement of a winner(s), or the distribution/awarding of a prize(s); c) any omission, interruption, deletion, defect, delay, misdirection, damage, line failure, injury, technical malfunctions or traffic congestion on the Internet/telephone network, or at any website, or any combination thereof. Sponsors reserve the right to modify these rules for clarification purposes without materially affecting the terms and conditions of the Contest. In the event that the Contest is infected by a computer virus/worm, or is not capable of running or being executed as planned as a result of but not limited to an error, omission, defect, delay, misdirection, tampering, unauthorized intervention, fraud, action of participants or technical failure or any other cause which in the sole opinion of Sponsors corrupts or affects the administration, security, fairness, integrity, or proper conduct of the Contest, Sponsors reserves the right in its sole discretion to disqualify any suspect entry or participant and to cancel, terminate, modify or suspend the Contest. In the event of such cancellation, termination, modification or suspension, notice thereof will be posted at the Contest website and winners will be determined solely by Sponsors (based on above judging criteria) from among all eligible non-suspect and/or non-disqualified entries. In such event, Releasees shall have no liability to any participant who is disqualified due to such an action. Failure to enforce any term of these official rules shall not constitute a waiver of that provision.
---
Backcountry skiing is an inherently dangerous activity that requires experience and knowledge to travel safely. Any of the routes on this site may be dangerous depending on conditions. You are responsible for your own safety in the backcounty—the team behind backcountryskiingcanada.com disclaim any responsibility for any injury resulting from people travelling on routes described on this site. To read our Terms of Use and get all the details, read HERE.
---