SUNSHINE VILLAGE SKI RESORT
To share any info your have on backcountry skiing at Sunshine Ski Resort, or to get the lowdown from others, check out our backcountry skiing forums on the region. Tours in and around the Sunshine Village Ski Resort offer big snowfalls, stunning views and grand adventure. Located on the continental divide, the high peaks of this area steal the cold dry snow from southwesterly storm clouds. On a clear day views of Mt. Assiniboine (Matterhorn of the Rockies) and neighbouring peaks are breathtaking. In 1998 the world famous Delirium Dive freeride zone was opened and named among the Top 10 Off Piste destinations on the planet. In 2003 The Wild West joined as another big mountain skill testing arena. Both areas are generally avalanche controlled but localized slides to size 1.5 (or larger) are possible.
All of the routes below are in a shortened format, the full versions can be found in our Lake Louise Sunshine Banff Ski Touring Guide which you can pick up for a bargain over here. If you wish to access tours outside the area boundary it is permitted to skin up through the resort (as it lies within Banff National Park) however it is at your own risk. Stick to the edges of the piste, give right of way to downhill skiers and watch for snowcats, snowmobiles and winch cats with long, faint cables extending uphill. Always obey any area closures while inside the resort boundaries. Be very well prepared and be sure to check out the Parks Canada Avalanche Forecast web site for conditions in Banff National. Have a look at the routes, buy the guide and play safe!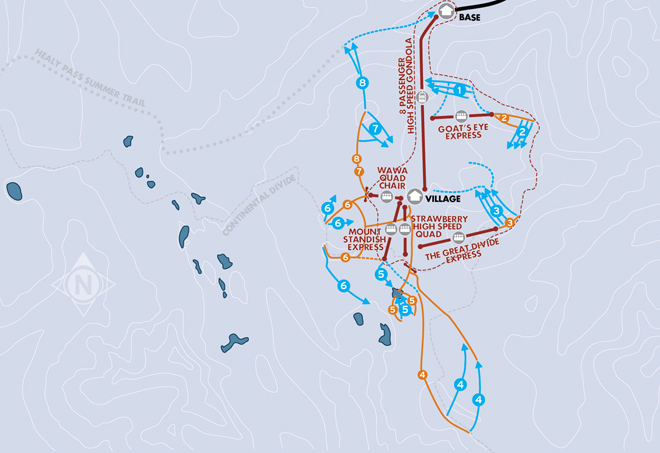 (This map is not meant to be used as a navigational aid but rather a visual indication of the route description.)
For a full listing of backcountry huts, cabins and lodges check out the Rocky Mountain cabins/huts/lodges page over here. If you are looking for maps and guides to the area then check out the following Backcountry Skiing Canada publication in our Backcountry Skiing Canada Store:
---
Backcountry skiing is an inherently dangerous activity that requires experience and knowledge to travel safely. Any of the routes on this site may be dangerous depending on conditions. You are responsible for your own safety in the backcounty—the team behind backcountryskiingcanada.com disclaim any responsibility for any injury resulting from people travelling on routes described on this site.  To read our Terms of Use and get all the details, read HERE. 
---
THE WILD WEST
As the name implies you are in for an adventure here. A long rock band runs north from the treed "Hell's Kitchen". The Kain Cliffs have no skiable breaks but north of this lies four obvious couloirs. Consider doing the easier Wheeler's first and scout the harder lines from the traverse below.
---
---
---
---
---
---
---
---