BANFF NATIONAL PARK
These select day trips along the Icefields Parkway in Banff National Park are at the epicentre of Rockies ski tours. The Icefields Parkway (or the Promenade des Glaciers en français) is also known as Highway 93, and covers 230 km linking Lake Louise and the town of Jasper to the north. The spectacular route runs parallel to the Continental, or "Great", Divide, and crosses both Banff and Jasper National Parks. Be aware that in winter, chains or all-season radials are required by law and that, depending on snowfall and avalanche control work, some sections of the parkway may be closed for as long as three days.
The Parkway crosses two passes: Sunwapta Pass at 2035 metres and Bow Summit at 2069 metres. The parkway falls within the Canadian Rocky Mountain Parks world heritage site which was recognized by UNESCO in 1984 for its mind-blowing natural beauty and geological value. The parkways offers up some great "highway lines" that you can scope out while driving by. Best time to ski the couloirs is April through June.
This area is visited by millions of tourists every year for the scenery alone as Banff is one of the most visited national parks in the world! Sky scraping jagged peaks amidst endless glaciers and glacial lakes make for breathtaking views. 
The high concentration of easy access tours along this corridor is a big draw in itself but the added bonus of being able to summit a peak before skiing open alpine slopes, followed by gladed trees down to valley bottom is quite a treat. 
Higher snow volumes can often be found here due to the close proximity to the Continental Divide that separates the ocean drainages (as well as Alberta from BC in this region). Parking directly on the shoulder of Hwy 93 to access tours is not advised as the snow blast from fast moving ploughs can damage vehicles and break windows.
We want to hear about your adventures in the Rockies so don't forget to post a trip report in the backcountryskiingcanada.com forums. If you have a new route in the area you want to share, mouse-on over here. N-Joy.
All of the routes below are in a shortened format except for Mount Hector which is provided by Mark Klassen of Corax Alpine Guides, the full versions of all the other routes can be found in our Lake Louise Sunshine Banff Ski Touring Guide which you can pick up for a bargain over here. Be very well prepared and be sure to check out the Parks Canada Avalanche Forecast web site for conditions in Banff National Park. Have a look at the routes below, buy the guide and play safe!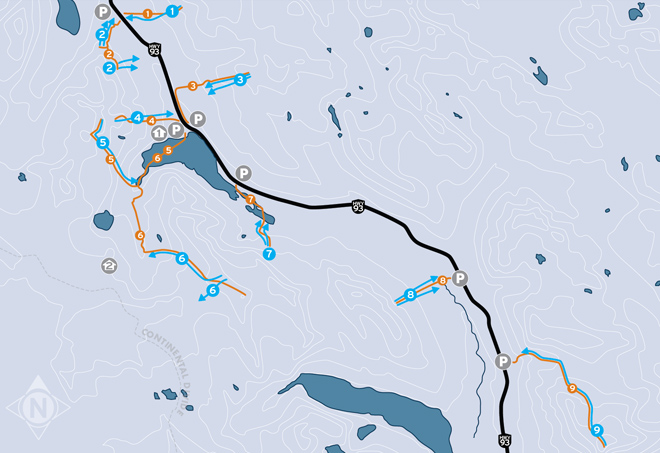 (This map is not meant to be used as a navigational aid but rather a visual indication of the route description.)
For a full listing of backcountry huts, cabins and lodges check out the Rocky Mountain cabins/huts/lodges page over here. If you are looking for maps and guides to the area then check out the following Backcountry Skiing Canada publication in our Backcountry Skiing Canada Store:
---
Backcountry skiing is an inherently dangerous activity that requires experience and knowledge to travel safely. Any of the routes on this site may be dangerous depending on conditions. You are responsible for your own safety in the backcounty—the team behind backcountryskiingcanada.com disclaim any responsibility for any injury resulting from people travelling on routes described on this site.  To read our Terms of Use and get all the details, read HERE. 
---
---
---
---
---
---
---
---
---
---