WHITEWATER SKI RESORT
To share any info you have on backcountry skiing at Whitewater, or to get the lowdown from others, check out our backcountry skiing forums on the region. As well as being one of the least commercial ski areas in North America, Whitewater enjoys huge dumps of snow throughout the winter season. Cold smoke, blower, champagne—call it what you will, it all means the same thing: amazing powder skiing. As a resort, Whitewater is interested in promoting the safety of all skiers accessing the backcountry and has some basic rules which must be followed. An overarching rule is that no hiking or ski touring is allowed within the Whitewater ski area boundary before, during or after operating hours. This must be respected.
Pay particular attention to any signs posted at common ski area boundary exit points. There is no avalanche control or ski patrol once you leave the area and you must cover any costs for your rescue—if required. Check the daily CAA avy bulletin posted outside the Ski Patrol room, ask a patroller about inbound conditions, and signout by filling in the information requested. Look to Whitewater's web site (www.skiwhitewater. com) for more info on their policies and up-to-date notices. The mountain's relaxed atmosphere depends on the cooperation and common sense of backcountry skiers like us. Respect the guidelines and enjoy some of the best lift-assisted backcountry skiing anywhere.
We touch upon a wide-ranging selection of routes here. Most—but not all—are accessible by either the Silver King or Summit Chairs. There are some truly hairball, "no exit" options as well as some which are more moderate. If you want to buy a day ticket and ski sidecountry laps, no problema. If you're looking for a longer harder tour, those too are available. 
Make certain to check out the Fresh Tracks Café and Coal Oil Johnny's Pub to get the full Whitewater experience.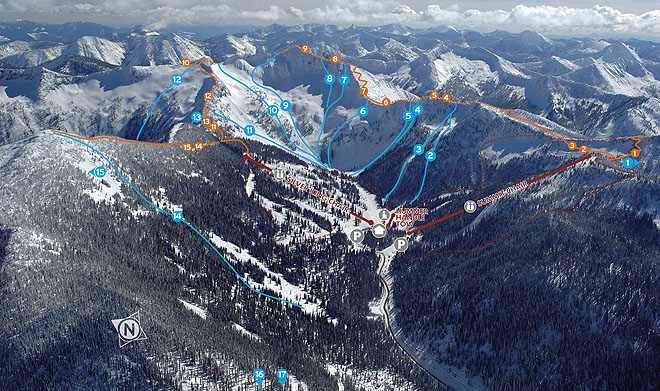 (This map is not meant to be used as a navigational aid but rather a visual indication of the route description.)
For a full listing of backcountry huts, cabins and lodges check out the Interior Mountain cabins/huts/lodges page over here. If you are looking for maps and guides to the area then check out the following publications in our Backcountry Skiing Canada Store:
---
Backcountry skiing is an inherently dangerous activity that requires experience and knowledge to travel safely. Any of the routes on this site may be dangerous depending on conditions. You are responsible for your own safety in the backcounty—the team behind backcountryskiingcanada.com disclaim any responsibility for any injury resulting from people travelling on routes described on this site.  To read our Terms of Use and get all the details, read HERE. 
---
Note that we have included condensed versions of the various route descriptions below. For a more detailed description of the routes—including details on access, ascents and descents—pick up a copy of the "offline" West Kootenay Touring Ski Touring Guide. Just click on this shortcut! 
---
---
---
---
---
---
---
---
---
---
---
---
---
---
---
---