TROUT LAKE
Trout Lake is located about one hour from Nakusp and about 2 hours north of Kaslo and is an amazing and relatively undeveloped backcountry skiing area containing high alpine peaks. It is known for exceptionally high snowfalls, warm temperatures, snowmobiling, and is the birthplace of NoBoarding, which is what many of the locals prefer. With no cell service and limited access, it is best suited for the experienced backcountry user. Having a snowmobile will greatly improve your access as there is a vast network of logging roads that can be used to access lines. As well, there is a heli-skiing and cat skiing operation both based out of the region. If coming to ski in Trout Lake please respect private property and the cat skiing operation's seasonal area closure.
We want to hear about your adventures in the Coast Mountains so don't forget to post a trip report in the backcountryskiingcanada.com forums. If you have new route in the area you want to share, mouse-on over here. N-Joy.
All routes listed here provided by Mike, a regular Backcountry Skiing Canada visitor. If we have missed anything please let us know?
For a full listing of backcountry huts, cabins and lodges in the Interior Mountains check out the Interior Mountain cabins/huts/lodges page over here.
---
Backcountry skiing is an inherently dangerous activity that requires experience and knowledge to travel safely. Any of the routes on this site may be dangerous depending on conditions. You are responsible for your own safety in the backcounty—the team behind backcountryskiingcanada.com disclaim any responsibility for any injury resulting from people travelling on routes described on this site.  To read our Terms of Use and get all the details, read HERE. 
---
ALPHA CREEK
It is best to follow the old partially overgrown logging trail uphill. Starting at about 980m elevation, the trail heads mostly north west and opens up to some good cut block skiing back down to the road. It is a fairly steady but mostly easy climb in sheltered trees. It is generally best to get to this shortly after a fresh snowfall as it is south facing and can get a pretty hard surface quite quickly. It is a quick route with multiple options making it good for quick laps.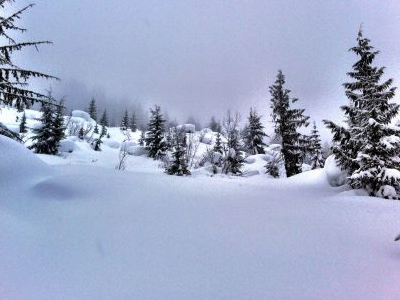 ROUTE: Alpha Creek
ACCESS: Drive to the town of Trout Lake on highway 31. From the general store in Trout Lake, drive approximately 5 km NE towards Ferguson on the plowed logging road.  Park on the right side at the fork in the road. Continue to walk down the same road for about 100m where you can throw your skis on and start heading uphill to your left almost immediately.
MAP: 82 K/12, 82 K/11
TIME: 1.5 hours
ELEVATION GAIN: 350m / 1,150ft
ATES RATING: Simple (1)
---