SHAMES MOUNTAIN
To share any info you have on backcountry skiing at Shames, or to get the lowdown from others, check out our backcountry skiing forums on the region. It's one source for good, current intel.

The Shames Mountain ski area is 35 km (22mi) west of Terrace, BC. Most routes described here are to the north of the resort, with a few to the east and west as well. Access for some routes is lift assisted. Note that Shames Mountain doesn't provide one-rides so you'll have to buy a day pass if you want to take a lift. The area is known for its massive snowfall and boasts an average of 1,200 cms (that's about 475"). It's in the Coastal Range so it gets the big precip. It's far enough north that the snow is dryer like in the Selkirks. May be the best of both worlds…As you'll see from the images and map, the Shames backcountry is also massive and offers terrain for many different levels of skiers.

To get the latest avalanche reports on the area from the Avalanche Canada, check out the Northwest BC bulletin.  Local snow stability information is shared on the Avalanche Canada Skeena/Babine mountain trip talk discussion forum. Note that many of the backcountry ski tours featured here are very remote. In other words, play it safe and smart.

In the illustrated map featuring the entire Shames Backcountry area, we have provided numbers and outlined the terrain included within 26 distinct touring areas. To get a better idea of the potential ups and downs, look at the photos for each of the 26 areas where you can see individual routes within the different areas (they're even named!). Dotted black lines indicate suggested up-routes and red lines/arrows indicate down-routes. This is big mountain skiing so be equipped and ready to use your route finding skills.
All routes listed here provided by Rod Gee, CAA Pro Memeber. If we have missed anything please let us know?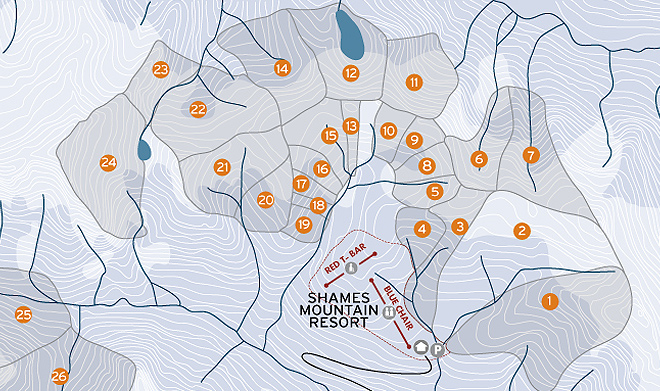 (This map is not meant to be used as a navigational aid but rather a visual indication of the route description.)
For a full listing of backcountry huts, cabins and lodges check out the Coast Mountain cabins/huts/lodges page over here. If you are looking for maps and guides to the area then check out the following publications in our Backcountry Skiing Canada Store:
---
Backcountry skiing is an inherently dangerous activity that requires experience and knowledge to travel safely. Any of the routes on this site may be dangerous depending on conditions. You are responsible for your own safety in the backcounty—the team behind backcountryskiingcanada.com disclaim any responsibility for any injury resulting from people travelling on routes described on this site.  To read our Terms of Use and get all the details, read HERE.
---
---
---
---
---
---
---
---
---
---
---
---
---
---
---
---
---
---
---
---
---
---
---
---
---
---
---