PEYTO HUT ROUTES
The Peyto Hut is the first hut on the Wapta Traverse which is a classic Canadian ski traverse located in the heart of the Rockies just outside Lake Louise Alberta. There are four huts along the way to make the journey more enjoyable — the Peyto Hut, the Bow Hut, the Balfour Hut and the Scott Duncan Hut. Backcountry skiing and ski mountaineering objectives around Peyto Hut are glacier based so you need good white out navigation skills and crevasse rescue skills. Within a short ski tour you can access Peyto Peak, Trapper Peak, Mt. Baker, Mt. Rhondda and of course Mt. Thompson.
We want to hear about your adventures in the Rockies so don't forget to post a trip report in the backcountryskiingcanada.com forums. If you have a new route in the area you want to share, mouse-on over here. N-Joy.
For a full listing of backcountry huts, cabins and lodges (including all of the Wapta Traverse huts) check out the Rocky Mountain Lodging page over here. For all the details on how to complete the Wapta Traverse have a look on the Wapta Traverse page.
---
Backcountry skiing is an inherently dangerous activity that requires experience and knowledge to travel safely. Any of the routes on this site may be dangerous depending on conditions. You are responsible for your own safety in the backcounty—the team behind backcountryskiingcanada.com disclaim any responsibility for any injury resulting from people travelling on routes described on this site.  To read our Terms of Use and get all the details, read HERE. 
---
MT. RHONDDA SOUTH
From Peyto Hut Mt. Rhondda is a fairly easy objective with a total distance of about 5km one way. The ski tour is fairly flat and safe (minimal exposure to crevasses mid season) across the Wapta Icefield, the routes leaves Peyto hut at 8,200ft and quickly climbs southwest about 500ft with Mt Thompson on your left (East) and Mt. Rhondda on your right (West). Continue southwest until you reach the shoulder of Mt. Rhondda and start climbing to the summit of the South peak. If you are ambitious you can climb to the summit of Mt. Rhondda further along the ridge line and access steeper descents.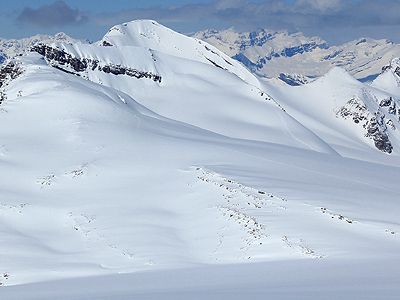 ROUTE: Mt. Rhondda South
ACCESS: From Peyto Hut on the Wapta Traverse.
MAP: 82 N/10
TIME: 2 -3  hours from Peyto Hut
ELEVATION GAIN: 500m/1,650ft
ATES RATING: TBD
---