We also took some stills to give you a better ideaof the pack's features. Give 'em a look—pockets first:
Here's a handy little pocket of the top. It's lined with velvety stuff so may be suitable for goggles. I'd still put my goggles in a hard case though. When the bag is packed to capacity, this pocket might scrunch a pair of goggles when zipped up.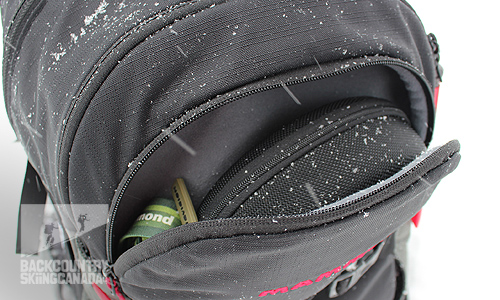 Check out the easy access front pocket for avy tools. As mentioned in the video, this pocket will accommodate shorter shovel handles and not some of the longer ones. Otherwise, there are dedicated sleeves for a probe and shovel shaft.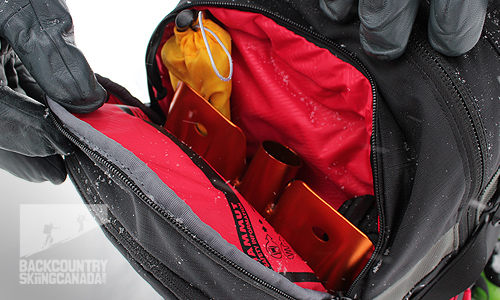 Inside lip of the avy tools sleeve features some good safety info. There's also some good info on a little sticker you can adhere directly to the Element Transceiver. I'm a big fan of this. The more I learn about dealing with avalanche danger, assessing situations and potentially addressing them, the more respect I have for tried-and-true processes. And having a cheat sheet is always a good idea.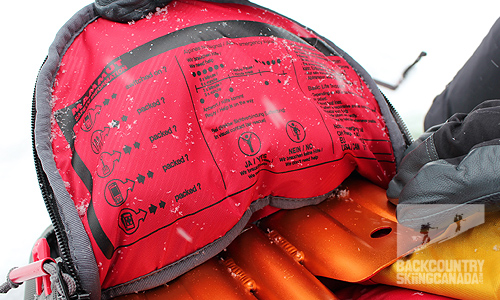 The contrasting design of different zippers may, at first, seem unnecessary. I've learned, though, that they make life a lot easier. As with any pack, as you grow accustomed to it, you develop tricks and habits so you always know where what you need is located. I always tuck my water along one of the side pockets and the special, easily identifiable zippers help with locating.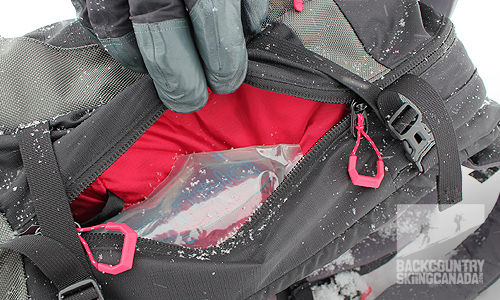 Fully loaded. For a big day out, smart packing is required. I got it down to a science though. See below: down layer, first-aid kit, lunch, skins, extra gloves, water. There's also a handy windowed map pocket on the upside. You can see it here, without the map.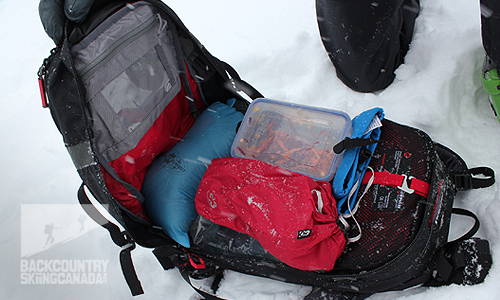 Here's the pack, emptied of its contents. You can see the air canister at left and the avy bag strapped in up top. A small price to pay space-wise for the added safety that an airbag offers. This system allows for the airbag and canister to be moved to other compatible packs. Handy!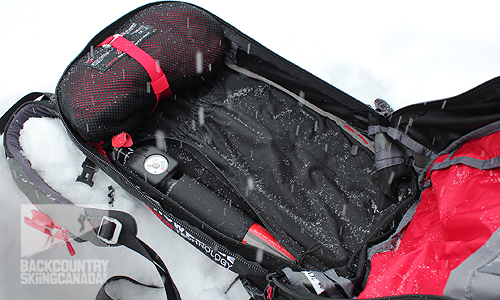 Here's a cool feature—stomp-proof metal buckles. How many times have you inadvertently crushed your hip-belt buckle? It's the kind of thing that can turn into a pain if you are up at a hut for a week's touring. Not a problem with these puppies.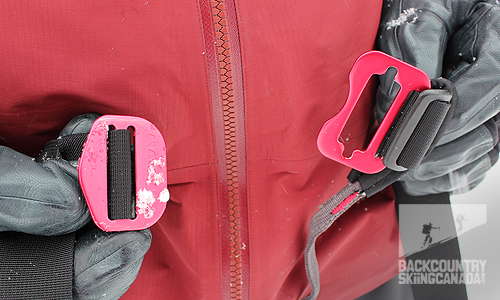 Here's the handy handle. It tucks into its zippable sleeve when not in use. Remember to take it out on the uptrack too. Avalanches can take you out on the way up—and the way down.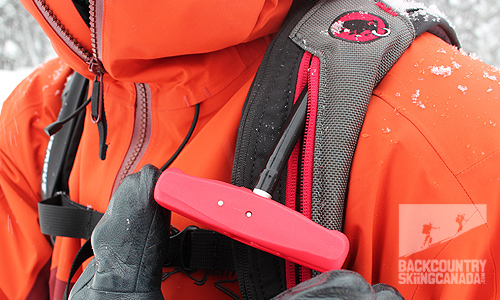 Here is the pack on a back. The red U hooks near the top strap work to attach your helmet. The A frame system works very well. There's a diagonal system that's "tucked-in" if you are a diagonal, ski-carry person. I'm a committed A framer.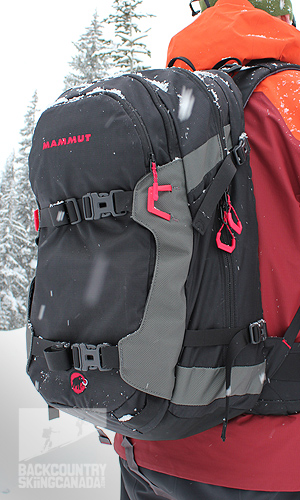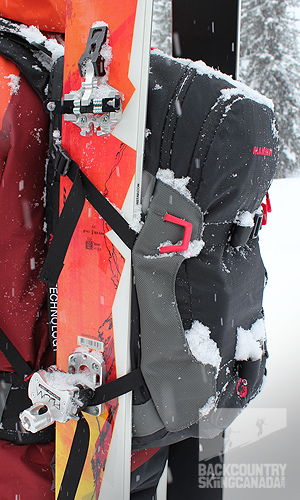 Here is the feature set list from the Mammut website:
- Removable Airbag System R.A.S.
- Safety leg loop
- V-frame 6 mm aluminum, adjustable
- 2-layer, high-density EVA back padding, hip and shoulder belts with stretch fabric cover
- Removable, padded hip belt
- Front pocket for avalanche safety equipment
- Diagonal, stowable ski attachment
- Snowboard carrier
- 2 front gear loops for material and helmet fixation
- Side compression straps
- Padded goggle pouch
- Zipped inner compartment with key clip
- SOS label with emergency instructions
- Hydration system compatible
- Base fabric is 420D Nylon , upper fabric is 420D Nylon Tritan
-Back system is CONTACT V Frame
Verdict:
Skiing with an avalanche pack in sketchy terrain is a smart thing to do. As user experience builds up, there's more and more data indicating that it is one of many things backcountry skiers can do to mitigate their risk. Avy bags are relatively new to the scene (especially in North America) so the "kinks" are still being worked out with evolving technology and design. For example, Black Diamond has introduced the Halo backpack with "Jetforce" battery-powered airbag deployment and many small manufacturers are introducing their own models. The advantage with Mammut avy bags, with snowpulse technology, is that they are one of the first companies to offer such a product. In other words, they have a head start in terms of working out the kinks. When a "kink" can be the difference between life and death, I say it makes sense to go with a more proven technology.
So, Mammut = good avy bags. Check. Looking more closely at the Ride 30 bag, it's clear that avy bag design has evolved even in the couple of years since the Ride 30 was first offered. In other words, if I had my druthers, I'd likely opt for one of the "Pro" models with the P.A.S. for the added protection, a little extra room, adjustable sizing and "backdoor" access. The Ride 30 is a very nice bag that significantly ads to safety in avalanche zones—regardless of whether it has all the latest bells and whistles. And I appreciate it.
Mammut Ride 30 Removable Airbag System R.A.S in action. Powder Creek Lodge.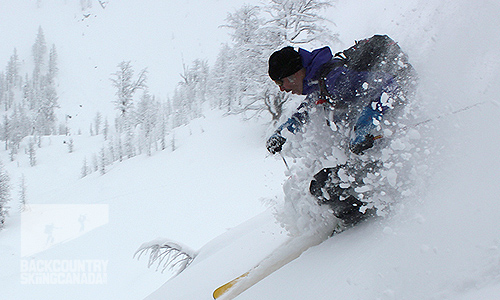 SPECS:
Price: approx. $850 CDN, all in
Volume: 30L
Color: Black/grey, blue/grey
Sizing: Regular and small
Weight: 2400g with airbag system, 1550g without
PROS:
Because of the history behind Mammut/Snowpulse avalanche airbag systems, I am confident that they make a good product. It's a relatively comfortable, well put together pack. The Swiss design is sharp and efficient. The pack is not too heavy, even with the avy bag and air canister
CONS:
I could use a bit more adjustability with the torso length. This is not an issue for many--I just have a long torso. The shovel handle sleeve only accommodates shorter shovel lengths. Because of the rigid cabling leading to the pull-handle, a little shoulder comfort is lost.
Rating: 7.5/10
Comfort / Fit       1/2
Features              1.5/2
Durability             2/2
Function              1.5/2
Quality / Price     1.5/2

This is only our opinion. Do you disagree? Did we miss something? Are we totally out to lunch? Join the discussion in the forums here, and let us know what you think. People like/dislike gear for different reasons so chime in and we'll get a well-rounded evaluation.
Back to the rest of the reviews.
---