KOOTENAY PASS
To share any info your have on backcountry skiing at Kootenay Pass, or to get the lowdown from others, check out our backcountry skiing forums on the region. Kootenay Pass lies between Salmo and Creston at an elevation of 1775m (5823') at the highest point of Highway 3. Part of the 1133 hectare Stagleap Provincial Park, the pass is famous for early and late season snow, as well as being the highest highway-served pass in BC that is open year round (even if it is closed every now and then due to avalanche danger). To get a snapshot of what the pass looks like every 15-30 minutes, click here. Looking at the featured webcam is an excellent way to see what you are in for prior to heading out for a day's tour. Be happy when the sign usually appearing next to the highway is buried in snow.
We've included the four "greatest hits" routes for ski touring at Kootenay Pass as they are a good representation of the area and feature a range of tours for all skill levels. These routes are found in our West Kootenay Ski Touring Guide which you can pick up for a bargain over here. If you have a little more time and energy, there are plenty more routes just over the mountains you can see from the highway (scroll down for these). Some routes are longer (Lightening Strike) some short and sweet (Cornice Ridge)—select your route depending on conditions, your skill level and the free time you have. Scroll down and check out 14 additional routes that will offer up something for everyone and surely challenge your skills. Unlike the resort based routes we feature on the site like the Rossland and Whitewater sections, the tours of Kootenay Pass are all completely backcountry. There are no lifts, no lodges and fewer people nearby. Accordingly, be very well prepared and be sure to check out the Kootenay Boundary Avalanche Forecast page on the Canadian Avalanche association website. Enjoy this Kootenay classic and play safe!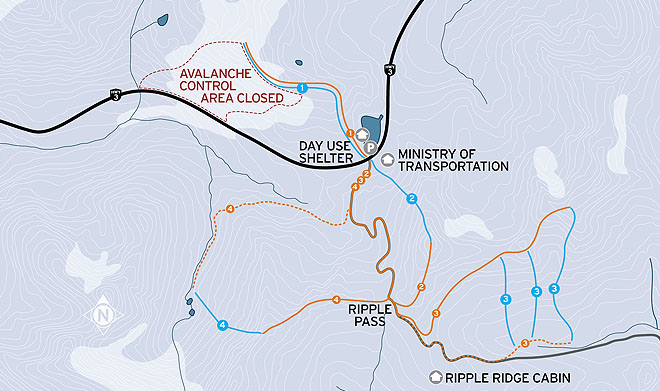 (This map is not meant to be used as a navigational aid but rather a visual indication of the route description.)
OTHER ROUTES:
5.The Muffin
6. The Muffin North
7. Twin Lakes
8. Camel's Hump West
9. Cornice Ridge Northwest
10. Buzz's Ridge Southeast
11. Buzz's Ridge Southwest
12. Buzz's Ridge North
13. Missile Ridge Southeast
14. Missile Ridge Northheast 1
15. Missile Ridge Northheast 2
16. Missile Ridge Northheast 3
17. Wolf's Ridge Southwest
18. Wolf's Ridge Southeast
19. Ripple Mountain
20. The Crags North

View Kootenay Pass in a larger map
(This map is not meant to be used as a navigational aid but rather a visual indication of the route description.)
For a full listing of backcountry huts, cabins and lodges check out the Interior Mountain cabins/huts/lodges page over here. If you are looking for maps and guides to the area then check out the following publications in our Backcountry Skiing Canada Store:
---
Backcountry skiing is an inherently dangerous activity that requires experience and knowledge to travel safely. Any of the routes on this site may be dangerous depending on conditions. You are responsible for your own safety in the backcounty—the team behind backcountryskiingcanada.com disclaim any responsibility for any injury resulting from people travelling on routes described on this site.  To read our Terms of Use and get all the details, read HERE. 
---
Note that we have included condensed versions of the various route descriptions below. For a more detailed description of the routes—including details on access, ascents and descents—pick up a copy of the "offline" West Kootenay Touring Ski Touring Guide. Just click on this shortcut!. For additional routes free of charge have a look below for 14 more.
---
---
---
---
OTHER ROUTES LOCATED AT KOOTENATY PASS:
THE MUFFIN
The "Muffin" as it is called provides a big descent into twin lakes but you have to negotiate complex terrain and also be aware of active slide paths, experience and knowledge is required for this route. If this is not up to your level of skiing and riding perhaps consider the Muffin North as it offers up some gentler treed descents. The Muffin is not a straight forward route to ski as it takes some route finding to get to the summit and there is not always a fresh skin track to follow. Start out on the Stagleap FSR on the South side of Highway 3 opposite the parking area. Follow this for approximately 650 meters and then descend about 100 meters in a westerly direction. Contour around the North ridge of Lightening Strike maintaining your elevation until you arrive at Twin Lakes. From here the skin track will gradually get steeper as you climb. Head up the east face of the Muffin staying in the trees of Muffin North and out of the slide paths. Once you gain the ridge follow it south to the summit but ensure it is safe as this ridge is typically corniced and wind scoured. This is complex terrain so take a conservative route down and be sure to avoid open avalanche paths and steeper lines. The way back to the trail head is more or less the way you came in.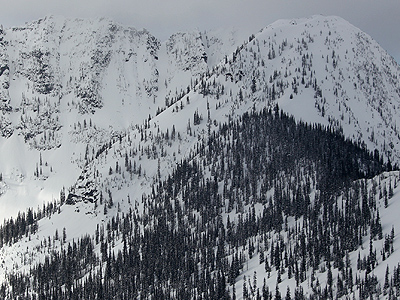 ROUTE: #5
ACCESS: South side of Highway 3 from parking area at Kootenay Pass
MAP: 82 F/3
TIME: 2.5 hours
ELEVATION GAIN: 495m/1624'
ATES RATING: Complex (3)
---
---
---
---
---
---
---
---
---
---
---
---
---
---
---
---