CYPRESS PROVINCIAL PARK
Hollyburn Peak is a popular winter destination due to its proximity to Vancouver, Cypress Ski Resort and its location within Cypress Provincial Park. Cypress Provincial Park is 3,012 hectares and while very close to civilization some parts are quite remote so be sure you have the skills required to venture out. Just because you can see the city does not mean you can let your guard down.
There is an established snowshoe route to the summit which provides spectacular views of Georgia Straight, the Lions, and the nearby Grouse Mountain area, similar to what you would see if you were skiing at Cypress Ski Resort. If you look to the southeast you can also see snowclad Mount Baker in the Cascade Mountain chain (on a clear day) and to the west and southwest lie the Gulf Islands and Vancouver Island.
During the period from November to May, backcountry travellers are required to show an Access Corridor Waiver to travel through the Controlled Recreation Area, which is operated under permit by Cypress Mountain Resort. This Access Corridor Waiver is available without charge and may be obtained from Cypress Mountain Resort. Cypress Mountain was the official freestyle skiing & snowboard venue for the Vancouver 2010 Olympic winter games and gets heaps of that great coastal snow.
We want to hear about your adventures in the Cypress Provincial Park region of West Vancouver so don't forget to post a trip report in the  Backcountry Skiing Canada forums. If you have a new route in the area you want to share, mouse-on over here. 
The route below was provided by a dedicated powder junkie named Mike Cyclone. If we have missed anything please let us know.  
For a full listing of backcountry huts, cabins and lodges check out the Coast Mountain cabins/huts/lodges page over here.
---
Backcountry skiing is an inherently dangerous activity that requires experience and knowledge to travel safely. Any of the routes on this site may be dangerous depending on conditions. You are responsible for your own safety in the backcounty—the team behind backcountryskiingcanada.com disclaim any responsibility for any injury resulting from people travelling on routes described on this site.  To read our Terms of Use and get all the details, read HERE. 
---
HOLLYBURN PEAK
From North Vancouver take HWY1 north to Cypress Ski Resort looking for the exit called Cypress Bowl Road Ski Area.  Drive up the road to Cypress Ski resort and pass the turn off to the right leading to the cross country ski area. From this point drive 1 km to the parking on the left side of the road. in a cleared area. If you see the Ski Resort you have gone too far. The ascent starts on the east side of the road at N49 23'38.1  W123 11'37.3 and is aprox 45 minutes of climbing. The descent is down the same way you came up through the trees and should end up  in the aprox area of where you parked  the car.
Recommendations bring your helmet this is tree skiing and all avalanche gear to do self rescue this is not part of the ski area and you will need to rely on your parter if something goes wrong even though you are right beside the city, Never ski alone.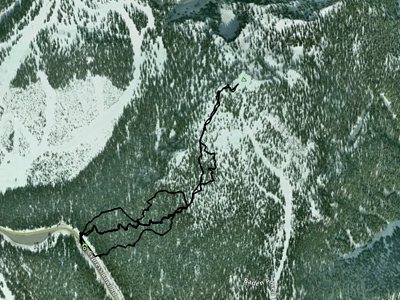 ROUTE: Hollyburn Peak
ACCESS: Cypress Ski Resort 30min from Vancouver
MAP: 92 G/06
TIME: 1 - 1.5 hours
ELEVATION GAIN: 427m / 1,400ft
ATES RATING: TBD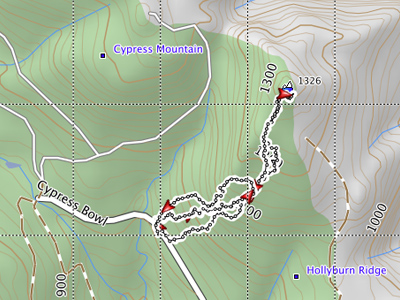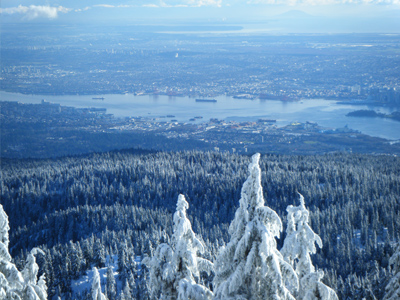 ---