LAKE LOUISE SKI RESORT
Lake Louise Resort is famous for its "Back Bowls" with steep skiing in deep powder but those back bowls keep going, ridge after ridge into the terrain that surrounds the resort, providing a whole lot of untracked goodness to be enjoyed. For the adventurous powder hound willing to earn their turns the rewards are plentiful. All that fun comes at a price however. The steep and deep alpine bowls can pack a punch bigger than face shots if you're not careful. The predominantly complex terrain requires the patience to wait for stable snow conditions and good visibility or the judgement and experience to know how to work the terrain to minimize your exposure. Note that skinning up the piste within the resort boundary at Lake Louise is only allowed on the "Ski Out", crossing the Larch and Marmot runs to access the Skoki Trail. Please stick to the edges of the piste and give right of way to downhill skiers.  Always obey any area closures while inside the resort boundaries.. To share any info your have on backcountry skiing at Lake Louise Ski Resort, or to get the lowdown from others, check out our backcountry skiing forums on the region. 
All of the routes below are in a shortened format, the full versions can be found in our Lake Louise Sunshine Banff Ski Touring Guide which you can pick up for a bargain over here. Be very well prepared and be sure to check out the Parks Canada Avalanche Forecast web site for conditions in Banff National. Have a look at the routes, buy the guide and play safe!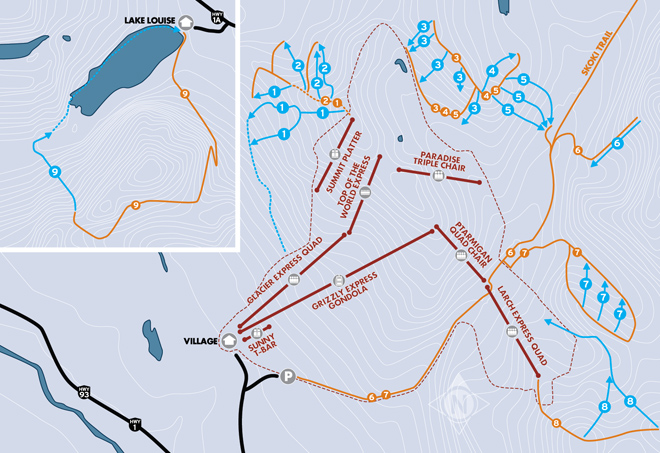 (This map is not meant to be used as a navigational aid but rather a visual indication of the route description.)
For a full listing of backcountry huts, cabins and lodges check out the Rocky Mountain cabins/huts/lodges page over here. If you are looking for maps and guides to the area then check out the following Backcountry Skiing Canada publication in our Backcountry Skiing Canada Store:
---
Backcountry skiing is an inherently dangerous activity that requires experience and knowledge to travel safely. Any of the routes on this site may be dangerous depending on conditions. You are responsible for your own safety in the backcounty—the team behind backcountryskiingcanada.com disclaim any responsibility for any injury resulting from people travelling on routes described on this site.  To read our Terms of Use and get all the details, read HERE. 
---
MT. WHITEHORN - WEST BOWL AREA
Easily accessed from the lifts, this area provides a good variety of off-piste runs, however the high elevation windward aspect can be thin and rocky with wind loaded pockets and gullies. Both these conditions have resulted in numerous skier-triggered avalanches over the years. 
---
---
---
---
---
---
---
---
---