Line Sick Day 125 Skis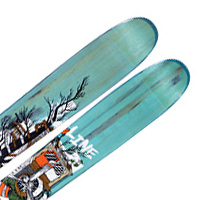 Though Line Skis was acquired by K2 in 2006, the company has maintained its small/crafted-in-the-garage vibe. That may be in part due to charismatic iconoclast and founder, Jason Leventhal. Jason started Line in a garage in Vermont with a buddy. Their graphics have always been a little irreverent (and cryptic) and we like that. Line makes more than just skis too. They make poles, bags and apparel and have been at it since 1995. The motto is "Making skiing more fun". 'looks like they are still doing a good job.
We met Jason at SIA a couple years back and knew immediately that we wanted to check out the skis. Make sure to take a look at the video we shot because he walks us through the entire Sick Day line. Since we met, Jason has moved on to something else—he seems like a serial entrepreneur—but his touch is very evident in the skis.
The video below gives a good round-up of our impressions. During our ski season out here in BC's interior, we've skied the Line Sick day 125s on other sick days since we shot the video. We've learned to love them for chunder, broken crust and anything requiring a lot of girth. Though they may be best on pow days , by the end of the season, we learned to love them as more of an all around ski.
Tips feature pretty significant rocker. Also, the tips and tails are "shaved down" to reduce thickness and make for a more favourable swing weight. They call this Thin Tip™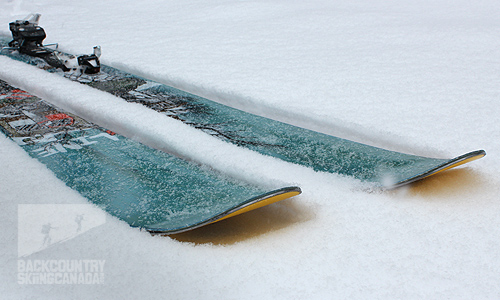 Tales have same "Thin-Tip" design. Slight rocker/pintail action in the rear. Pintail adds to the ski's directional nature.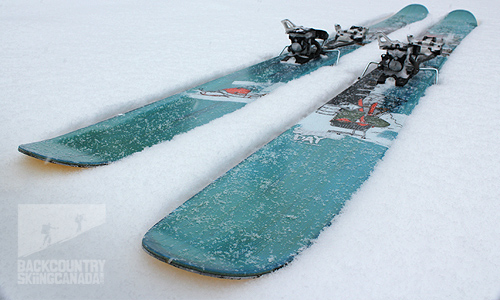 Here you can see the extent of rocker. It definitely makes a difference in the pow and makes the near-super-fat ski, ski a little thinnerer.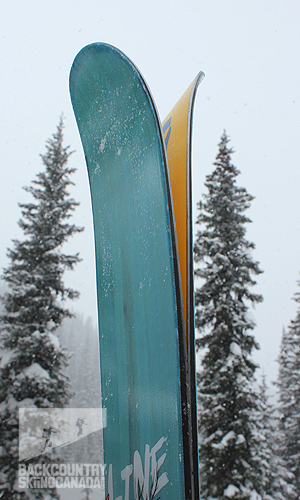 Here is the tail rocker or early-rise as they call it. Not ideal for jabbing your tails in the snow, but super scha-weet for the descent.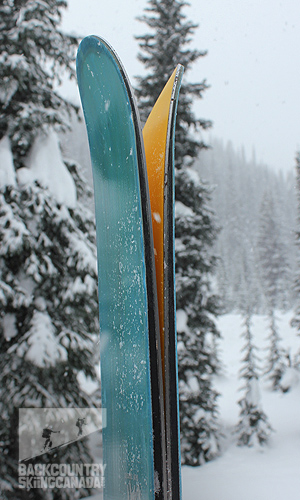 There is some camber here so not as much of a pivoty feel as with some skis (like the DPS Wailer 112RP)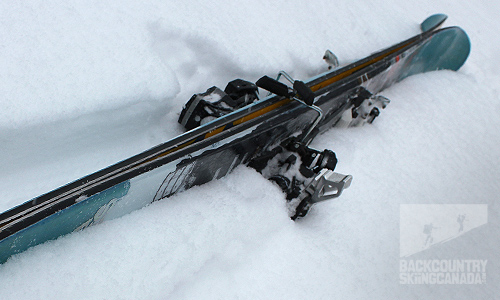 Big skis for big days. Sick. Note the artwork from Derek Muscat on the topsheets. Cool. The bases are fun too with "SICK DAY" appearing in big bold letters. See the vid for that.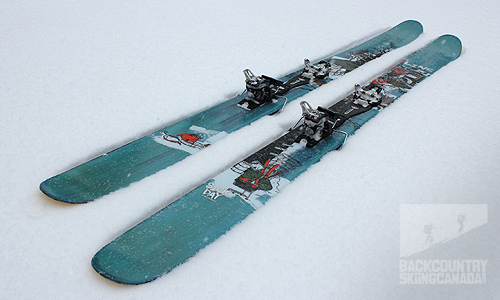 Construction:
- Capwall™
- Early Rise™
- Thin Tip™
- Early Taper™
- Maplelite Macroblock™
- 5-Cut™
- Directional Flex™
- Longer Active Edge™
- Sintered Base™
Verdict:
The Line Sick Day 125's grow on you. At first, I thought they were only for big and blower powder days (where they are aaaaawesome). I took them out in different conditions and realized that they were handy for more kinds of days than I had originally thought. Heavy new snow, broken crust and more. This is not a one ski quiver – unless you like 'em super fat. They ski OK on groomers but I never took them out on anything hardpack. Touring wise, they are heavy enough that you probably wouldn't want to take them on super long tours. Though efforts have been made to reduce the weight, they are still a comparatively heavy ski. I don't own alpine bindings so I have these mounted up with Dynafits. I ski them in the area, and, if I want to do a quick sidecountry lap and enjoy the power the Sick Days offer, that's an option. I like the ethos of the company, too!
SPECS:
Price: $770
Waist Width mm: 125
Length cm: 186, 192
Shape mm: 150-125-137
Sidecut m: 19 (186cm)
Stance mm: -80 (186cm)
Weight: 2,367 g/ski (186cm)
Profile mm: 25-3-10
Turning Radius: 20.6 m
PROS:
Fat 'n fun! Cool topsheet and base graphics. Because of the rocker, they ski like a smaller ski and are more playful than you'd think.
CONS:
For special days only. A little heavy for a long-tour ski (but that's not the kind of ski it is!)
Rating: 7.5/10
Powder Performance 2/2
Groomer Performance 1/2
Stability 2/2
Weight 1/2
Value 1.5/2

Back to the rest of the reviews.
---